Accounts are the records that are kept for individual Assets, Liability, Capital, Income and Expenses. Business maintain an account for creditors another for cash, another for income and so on for every other financial element. All these accounts are collectively shown in company's General Ledger.
In a manual system, General Ledger can be imagined as notebook with separate page for every account that records "ins" and "outs" of every account with existing Balances.
Debits and credits are accounting tools to describe the change in a particular account. In accounting instead of saying that cash has "increased" or "decreased" we can say that cash is "debited" or "credited".
Rules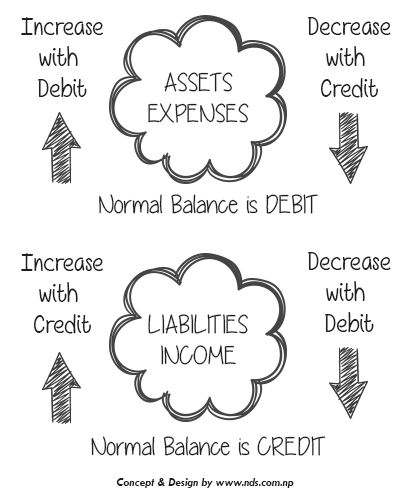 1. Assets
+ Increase: Debits
- Decrease: Credits
2. Liabilities
+ Increase: Credits
- Decrease: Debits
3. Capital
+ Increase: Credits
- Decrease: Debits
4. Expenses (Loss)
+ Increase: Debits
- Decrease: Credits
5. Income (Profit)
+ Increase: Credits
- Decrease: Debits
To learn more about Accounting & our Accounting software -SiddhiGL please email us at This email address is being protected from spambots. You need JavaScript enabled to view it.or Call us at +977 1 4671963